Mail Settings
Our mail server supports both encrypted and unencrypted POP3, IMAP, SMTP protocols. Our general recommendation is to use SMTP on port 587 for outgoing email and Secure IMAP on port 993 for incoming email.
The mail server for incoming (POP3, IMAP) and outgoing mail (SMTP) is mail.networksavvy.org.
In most cases your full email address is your username/mailbox name. (Please check these details with with us if you have multiple email addresses going to 1 box)
If you would like to use Webmail we reccomend using Roundcube at https://www.networksavvy.org/roundcube. (Unless you require it for legacy reasons, please do not use https://www.networksavvy.org/openwebmail as this will remove your mail from the mail server and prevent you from syncing it with other devices)
Setting up Microsoft Outlook
If you are using Outlook 2010 please upgrade. While Outlook 2010 works with our mail infrastructure the software has quirks and bugs making it difficult to support.
Different versions of Outlook have slightly different look and feel, but the general setup process is typically similar. The process is as follows:
From Outlook, go to "Tools", then "Accounts", then "Add new account" and select an IMAP account.
For the IMAP/Incoming mail server enter mail.networksavvy.org, select "TLS/SSL" which should change the port to 993.
Enter in the SMTP/Outgoing server as mail.networksavvy.org and specify port 587 and "Auto" for encryption.
Go to advanced settings and tick "My outgoing mail server requires authentication" and also "My outgoing username and password is the same as my incoming one".
Different versions of Outlook have slightly different mechanisms to get to this page.  Generally To get to this page you would Go to the menu "Tools", then "Accounts"
It is useful to enter in your full email address and password here.  It is very important yu tick "Manual Setup or additional server types.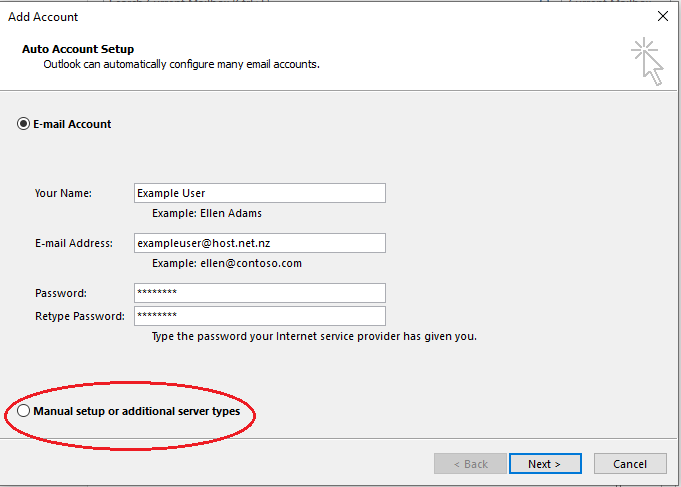 Select POP or IMAP email account and press Next
Fill out all fields – Your name, email address (if you did not do these in step 2).
For the account type we recommend IMAP – this keeps a copy of the mail on the server and allows for you to sync between devices.   (Our system does support POP3 as well).
The incoming and outgoing mail server should both be set to "mail.networksavvy.org"
Wehen done, click More Settings to configure outgoing mail and security. 
LUnder Outgoing Server, ensure "My outgoing (SMTP) server requires authentication is ticked.
  Click on Advanced Tab to set up correct ports and security.
There are various options under Advanced settings.
It is highly recommended to change the IMAP connection type to "TLS/SSL. This will change the port to 993.
For Outgoing mail set a type of "STARTTLS" and the best port to use is 587

It is noted that other settings may work here, but may provide reduced security.